5 – 9 September, 2022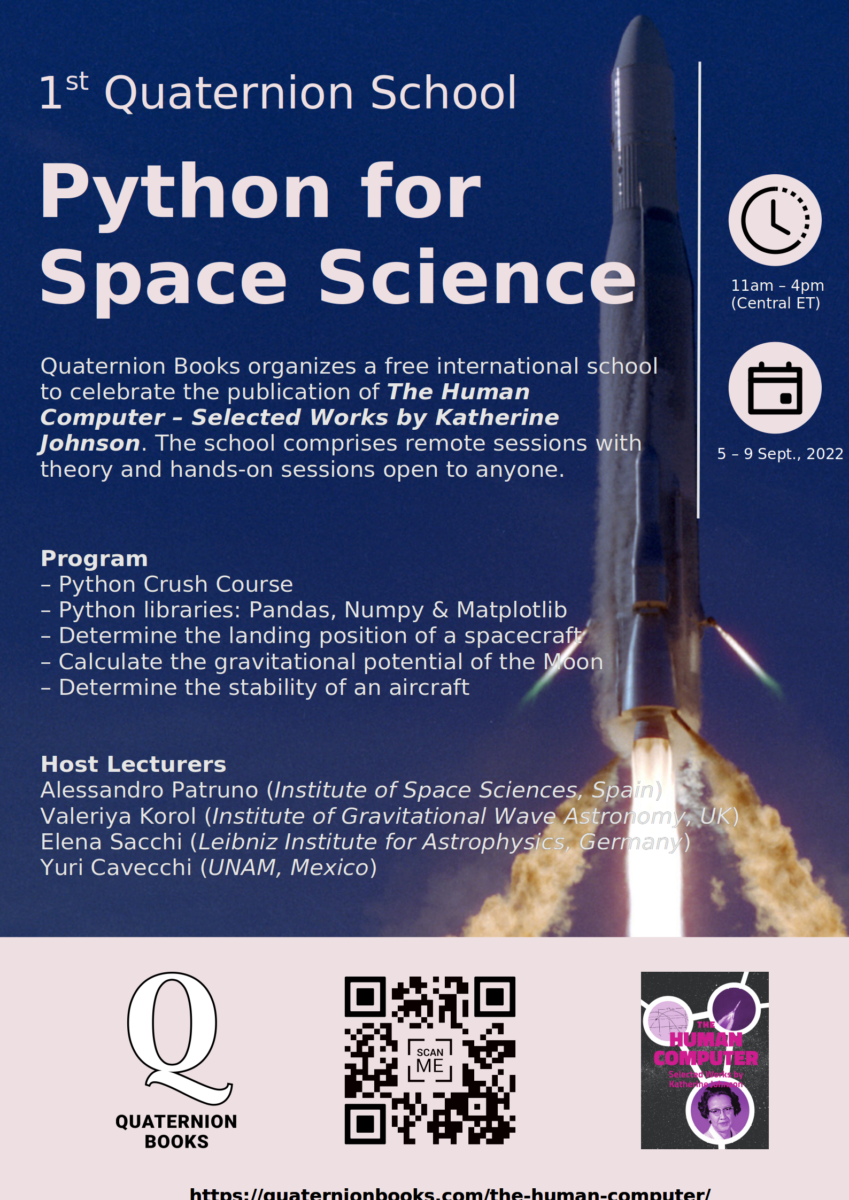 Presentation
Quaternion Books is a start-up publisher that focuses on scientific literacy, with the mission of supporting and promoting education among the underrepresented. In order to achieve this, we create books and we use part of the revenue to finance educational activities in line with our mission.
We have recently published the book The Human Computer, celebrating the great African American mathematician Katherine Johnson, who worked for NASA's space program. Some of the funding collected are being used to organize an online school to help students learn how to master Python and use this knowledge to reproduce some of the calculations published in Katherine Johnson's scientific works.
Rationale
Python has become one of the fundamental tools used in many scientific and engineering disciplines. Learning its basics is an asset for any person who wants to be up to date with the latest technologies and master one of the basic tools used by scientists, engineers, and software developers. Space science is also rapidly evolving, with many companies in the private sector offering relatively cheap space launches, nano-satellites, and now even opening space for tourism.
The program of the 1st Quaternion School will therefore offer a Python crash course followed by a historical journey in the space sciences that aims at reproducing the calculations published in Katherine Johnson's scientific works. No pre-existing knowledge in Python or space science is required. The school will be offered online, but there is no need to have a powerful computer or any Python version/package installed on one's own computer since all hands-on sessions will be done with online tools.
Organization
We will accept a maximum of 50 people because we aim at making the online lectures/hands-on sessions as interactive as possible. However, all lectures will be recorded and made available online. We reserve the right to select the participants based on their motivation and the number of resources available to the participant. There is no limit to age, country of origin, or former education. All participants are welcome, but if the maximum number is exceeded, participants with a less favorable personal situation will be preferred.
Lecturers
Our lecturers are young and enthusiastic scientists working in astrophysics and space sciences and use Python in their daily work:
Alessandro Patruno (Institute of Space Sciences, Spain)
Valeriya Korol (Institute of Gravitational Wave Astronomy, UK)
Elena Sacchi (Leibniz Institute for Astrophysics, Germany)
Yuri Cavecchi (UNAM, Mexico)
Prizes
We will run a contest at the end of the school and select the person who has shown the best dedication and performance, who will then be invited to visit one of the lecturers at their host institute. The visit expenses and flight tickets will be completely covered by Quaternion Books.
Deadlines
School Registration Opening: February 1, 2022
School Registration Closing: June 31, 2022
Provisional School Dates: September 5 – 9, 2022
*Note: the school dates are not final and might change. Please check your email after the registration for updates